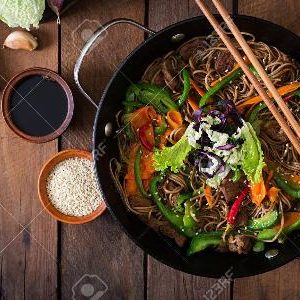 Chef David Johnson
Graduate of The Culinary Institute of America
1989 – 3.71 GPA
David Johnson graduated with honors (3.71 G.P.A.) from The Culinary Institute of America, Hyde Park, NY in 1989. Before and since then David has apprenticed and worked at many top-level restaurants, catering operations and numerous other hospitality industry positions all over America. From New York to Los Angeles and Wisconsin to the Carolinas and Maryland David has gleaned the regional bounties of the best of modern American and International Cuisine. He is currently a Food Service Director for Lintons Food Service Management on the beautiful Eastern Shore of Maryland.
David's cooking career started at the age of five in his grandmother's kitchen as chief spoon licker. He also did volunteer work in an industrial kitchen that fed 300 people three times daily at the age of ten (see photo lower right). His first industry job was at the age of fourteen busting suds in the pot sink for an upscale French restaurant called Andrea's in Madison, Wisconsin. A highlight of his career was cooking food for a relief camp of 400 relief workers in New Orleans in the aftermath of Hurricane Katrina in 2005. Since then he has never looked back in a career that has spanned nearly half a century.
David's interest in food and cooking also extends to research, planning, presentation, cost control, sanitation, public demonstration and teaching. He has prepared and styled food for the television show Beverly Hills 90210 (he even appeared in the background of a scene as "special talent") and for advertising in magazines for several West Coast Advertising Agencies. He has taught classes for UCLA Extension Culinary Arts Program, Wisconsin Union Mini-Courses, and kitchen design firms such as Dybdahl's Classic Kitchens and Cabinets of Madison, Wisconsin.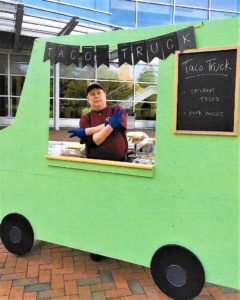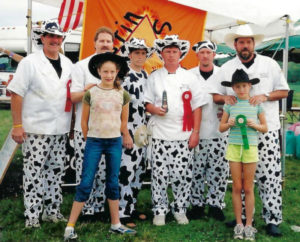 More About David
"What is Your Favorite Dish to Cook?"
David is always amused when people ask him this since as a chef his initial response is "food" because cooking is his vocation and profession not a pastime. But, then he politely replies that he loves Ethnic Fusion which he explains:
"I love exploring blending global cuisines that have similar methods by cross-pollenating those methods with a fusion of indigenous ingredients that are now available worldwide. Let me explain. What do Moo Shu, Crepes, Falafel, Gyros, Shawarma, Injera and Quesadillas have in common? They're all a type of flat bread filled with ingredients that are folded or rolled and eaten. I find it fascinating that before the jet-age these similar methods of preparing and eating food evolved across the globe. What I like to do is combine ingredients from two of those geographical regions into a single dish with the common denominator being the method. For example, I make a popular appetizer called a Chinese Quesadilla that combines Hoisin, Lap Cheong (Chinese Sausage), Honey Roasted Cashews, Green Onions, Jalapeno and Pepper Jack Cheese. It is amazing that the similar method transcends the geographical divide to create a delicious and cohesive dish."
David was part of a competition cooking team called Justin Sane based out of Galveston, Texas – the home of team captain John McNatt. Justin Sane competed in BBQ competitions from Texas to Wisconsin including the prestigious Houston Livestock Show where they took first runner-up for ribs out of 365 entries. Justin Sane also catered events for thousands of people and used their combined talents to set-up a field kitchen at a Hurricane Katrina relief workers' camp in New Orleans. This experience gave David a profound sense of gratification for running water.
"When we first got there about 8:00 PM we set-up a complete field kitchen overnight and served 400 workers breakfast and a bagged lunch by 6:00 AM the next morning. We had to transport our water from spigots a couple hundred yards away in stockpots because there were no hoses to be found in the immediate aftermath of the storm. When Captain John was finally able to run hoses from the spigots to our 3-compartment sink after a few days I cried at the relief of having such a simple thing as running water that we take for granted. For the first time I realized how hard it is for people in many parts of the world who have no running water. People who spend a good portion of their time and energy simply procuring water of questionable quality for their families."
Alicia M.
My Sponsored Child from Mexico
This experience was one of the primary reasons David became involved as a Child Ambassador for World Vision a global relief organization providing water, food, healthcare and education to impoverished global villages and towns to help them develop into self-sustaining communities.